. . . and why did I get away with it?
Stripes,J (1627) - Copeland,C (1555) [E07]
Turkey Quads Spokane (3), 15.11.2007
[Stripes]


1.Nf3 Nf6 2.g3 d5 3.c4

The Reti


3...e6 4.d4

no longer the Reti


4...c6 5.Bg2 Nbd7 6.0-0 Be7





7.Nc3
[
7.Qc2 is the correct move, as is known by everyone that plays the Catalan
]


7...0-0 8.Bf4
seemed like a reasonable move, and it is certainly thematic in the Queen's Gambit, but I have almost always regretted this move--this game is no exception.
8...dxc4 9.e4
Staunton and Steinitz would be proud of me for getting this nifty pawn center--but Chris will not let it stand long
9...Qb6
the novelty of our game, and not a particularly good one. But why? What is wrong with a move that attacks the pawn nearly always laced with poison?
10.Qe2 c5 11.Qxc4


[ 11.d5 occupied most of the time I spent thinking about my move, and may have been a better choice]


11...cxd4 12.Nxd4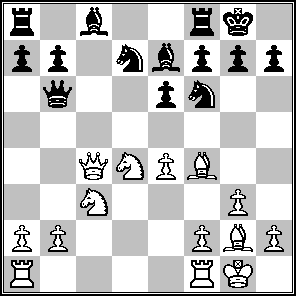 12...e5?
giving White the advantage that should have been his birthright
[ 12...Qxb2 was possible]
13.Nf5 Re8?
two inaccuracies by Black, and White now has a good game
[ 13...exf4 14.Nxe7+ Kh8 15.gxf4 Qxb2 seemed better for Black to me, but my engine disagrees;
13...Bc5 is the move Hiarcs prefers]
14.Nxe7+ Rxe7 15.Be3 Qe6
[ 15...Qxb2 was still possible, and would make White fight for the win]
16.Nd5
[ 16.Qxe6 seems simple enough]
16...Kh8??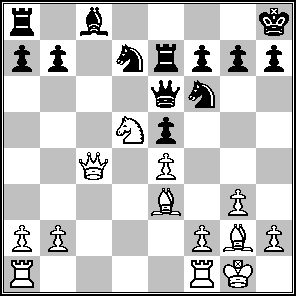 [ 16...Re8]
17.Rac1 b6 18.Rfd1 Nxd5?
it is not easy to play a position such as Black has created for himself
[ 18...Bb7]
19.exd5 Qd6 20.Qxc8+ Re8
[ 20...Rxc8 is suicidal 21.Rxc8+ Re8 22.Rxe8+ Nf8 forget about the queen as she is helpless against two rooks and two bishops]
21.Qc7 Qxc7 22.Rxc7
I like pigs!
22...Nf6 23.d6 e4 24.d7 Red8 25.Bg5 Rxd7 26.Rdxd7 Nxd7 27.Rxd7 f6 28.Bxe4

1-0



This badly played pseudo-Catalan gave me a much needed but undeserved win.




Technorati Profile