Death of a Legend
Bobby Fischer died at 64 (an "
evocative age
," according to the
Wall Street Journal
). He was buried in Iceland in a small ceremony. Iceland,
Garry Kasparov reminds us
, was "the site of his greatest triumph." I offered some
personal reminiscences
Friday.
Echoes of Elista
Toiletgate
has not ended as we learned when
Ivan Cheparinov
refused to shake hands
with Nigel Short, was forfeited, apologized, and then lost when the game was played.
The
official website
for the Corus tournament tells us that Kramnik and Topalov did not shake hands, but had one offered, the other would have been obliged.
Also
Veselin Topalov
had prepared well for his game with
Vladimir Kramnik
today, deviating from Kramnik-Anand, Mexico City 2007 with a novelty
12.Nxf7!
(Cheparinov, Topalov's second, is credited with the discovery)
Black to move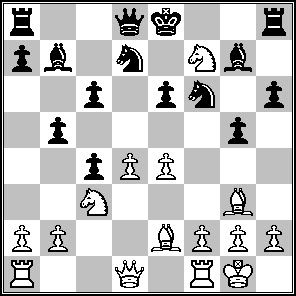 Kramnik might take some comfort from the knowledge that tournament leader Magnus Carlsen also lost today.