Publisher Everyman Chess has been producing good quality chess books long enough that I have accumulated many of their titles on my shelves. Some of my favorites include Garry Kasparov,
My Great Predecessors
, 5 vols.; John Watson,
Play the French
, 3d ed.; and Vladimir Kramnik, and Iakov Damsky, Kramnik:
My Life and Games
. But, Everyman Chess also published what may have been the worst edited book that I've ever purchased from a major publisher, a book that shows evidence of immense need for simple copy editing and that seems as though it received none. Susan Polgar, with Paul Truong,
Breaking Through: How the Polgar Sisters Changed the Game of Chess
stands as an embarrassment to Everyman Chess. Aside from printing, binding, and distribution, they utterly failed as a publisher.
With this track record, I had some trepidation before purchasing an ebook version of
Nigel Davies,

Play the Catalan
($19.99) for viewing within the
iPad Chess Viewer
($1.99). The three samples provided with the app revealed that viewing games and commentary was functional, although complex variations are not particularly well supported by the Chess Viewer app. It is easier to navigate complex variations in Chess Base, the viewer of choice for Everyman Chess ebooks.
Play the Catalan
is less expensive in paperback ($18.96 at Amazon), but weighs more than the iPad, which also contains many hundreds of other books (and currently sixteen chess programs). The advantages of purchasing it in this format include the convenience of the iPad itself, and that acquiring it does not require finding more space on already overcrowded book cases.
Everyman's website lists 125 ebooks, but only 30 appear in the store accessible via Chess Viewer. All these books concern openings, while their list of ebooks available for viewing in Chess Base includes a handful that are not opening manuals, including Jose Capablanca,
Chess Fundamentals
(algebraic edition).
It seems as though they rushed Chess Viewer through the process without considering the features that might be of interest to readers. Even so, it is a good beginning.
The Introduction in Play the Catalan includes two complete games: Kasparov - Korchnoi 1983, 7th match game, and a game not available in the Chess Base online database, Davies - Brown, 2009. This position stems from the latter.
White to move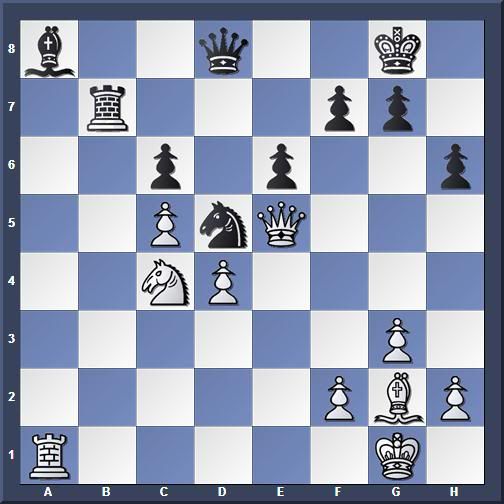 Here
Davies
found a simple winning combination.