My game with David Griffin ended badly. He won.
I had Black in this position.
White to move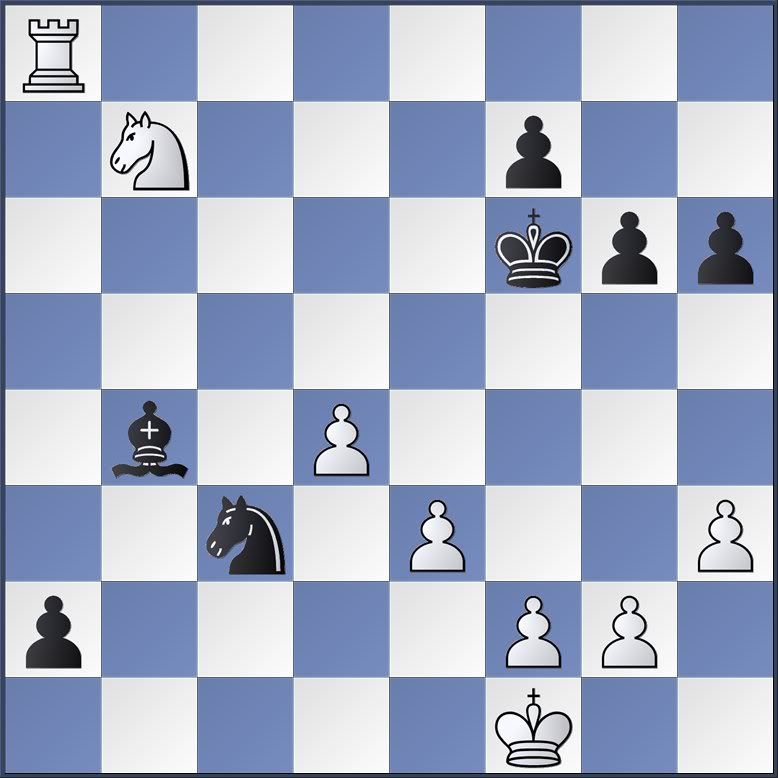 White has many ways to win, but he chose one of the few moves that let me back into the game.
39.Ke1??
White gives it away.
39...Na4+ 40.Ke2 a1Q 41.Ra6
+
I had been looking at the board while my opponent contemplated his move, thinking that I could play Nc3+ if the rook remained on the a-file with a discovered attack on the rook. I had been losing a difficult game and now had an elementary win. This rapid turn of affairs calls for calm reorientation. I needed to spend some time looking at the board. At least long enogh to notice that I needed to move my king.
Instead, I reached out almost instantly and played 41...Nc3+.
This move is illegal: my opponent pointed out that I was in check, and could not play Nc3. But having touched the knight, I could play Nb6 and thus was required to do so. He apologized for telling me this.
"Touch a piece, move a piece"
A few years ago, I created a flyer for a scholastic tournament. It had a photo of a hand moving a chess piece, and the headline: "Touch a piece, move a piece," followed by this text:
"[except when adjusting pieces in their squares after saying 'I adjust' (Rule 10A)]…a player on move who deliberately touches one or more pieces, in a manner that may reasonably be interpreted as the beginning of a move, must move or capture the first piece touched that can be moved or captured."
USCF Rule 10B

"A director who believes a player touched a piece by accident should not require the player to move that piece."
USCF Rule 10E



It's the Rule!
I printed the flyer on red paper and scattered copies around the tournament site--on tables, on walls, a small pile at the check-in table.
I assured my opponent that there was no reason to apologize. We are both tournament directors. We know the rules, and we enforce the rules.
I resigned the game.