Black's knight has no squares, so White will enter a king and pawn endgame two pawns ahead--an easy technical win.
Black to move +-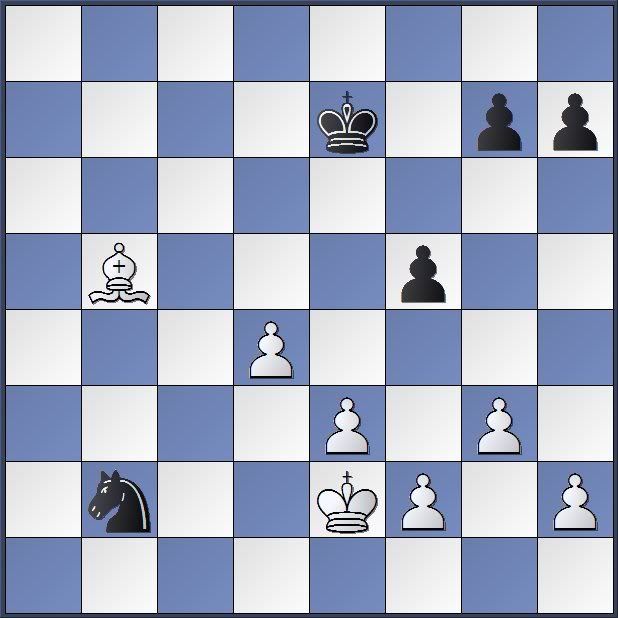 This position came about after an inaccuracy from this position.
White to move +-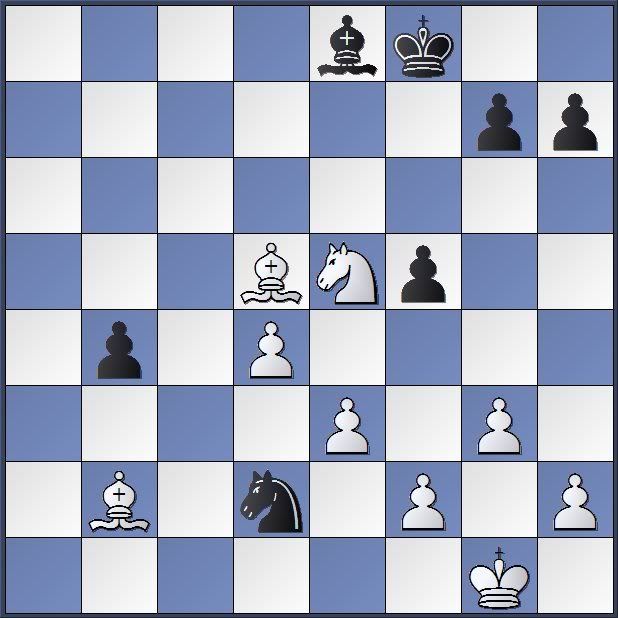 5.f3 appears best, but I played
5.Nc6
forcing Black's bishop off the board. The bishop's domination of the knight came about as Black gained back some of the material.
5...Bxc6 6.Bxc6 Nc4 7.Bc1 b3 8.Kf1 b2 9.Bxb2 Nxb2 10.Ke2 Ke7 11.Bb5
The process started from Reinfeld's WCSAC #0669
White to move +-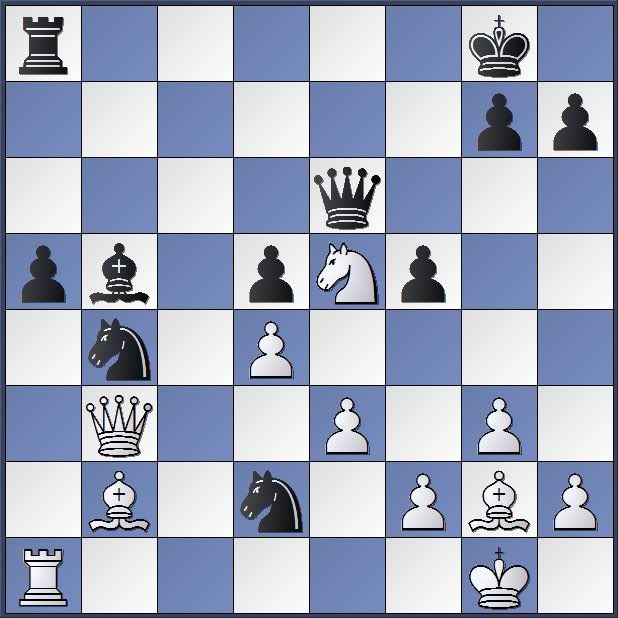 1.Qxb4!
This move is reminiscent of the key in Robert Pearson's "
A Nice Tactic (Redux)
," although not nearly as rich. Even so, it occurred to me in a matter of seconds partly because I'd been looking at Pearson's blog the day prior.
1...axb4 2.Rxa8+ Qe8 3.Rxe8+ Bxe8 4.Bxd5+ Kf8
and we reach the position at the top.
Resolutions Update
I
publicized
three chess oriented New Year's resolutions.
1. Reduce blitz
I've played four blitz games in 2009; all yesterday. I won a lost game on time, lost a won game against the same opponent due to inaccuracies when hurrying. I won two other games against a weak opponent on another site--almost a waste of time.
2. Intensify endgame training
I wrote on
my Facebook page
on January 4 that I was building a database of pawn endgames. I did some endgame training each day of 2009 up to then, but none since.
3. Demand consistency in Tactics Training Plus
I've done half of my planned regimen.
Why have I failed? Most of my chess time has been devoted to two activities: my
correspondence game load
, and the forums at some of these sites. The chess has been productive, but the political discussions have been almost stupid. Better management of idle time will lead to better results in my personal goals.
I did complete nine turn-based games, which reduced my load by seven. I accepted a rematch from one opponent, and accepted a challenge from one of this blog's readers. In these nine completed games, I won seven. The other two were drawn: one draw was a comeback from a technically lost position. In the other, I failed to hang on to an extra pawn, and started to think that I was slightly worse in the queen and pawn endgame. We repeated the position and I claimed the draw.
Saturday is the first round of the
Corus Tournament
at Wijk aan Zee. I likely will do some live blogging of selected games, but not on opening day as I am running a scholastic tournament. This live blogging will detract from my training regimen, but will have other benefits.