Chess Informant's
website now lists the results of voting for the ten best Golden Games.* In each issue of
Chess Informant
, the editorial board selects thirty exceptional games. A jury of grandmasters selects the best ten from the thirty, and the best game is awarded Golden Game status.
To celebrate their 100th issue, the editors of
Chess Informant
put out
Best of the Best 1000
(2008). This book reproduced the ten best games from each issue of
Informant
with the original annotations. Purchasers of this book received a voting card and invitation to select the ten best Golden Games.
I participated in this contest. Seven of my ten selections were deemed worthy enough by other readers that they made the top ten. Here are my selections with their final placing.
1. Topalov - Anand, Sofia 93/439
My number one did not make the top ten. This game features an early piece sacrifice that produced long-term initiative. Then Topalov won the endgame. I still footnote everything positive that I can say about Topalov with censure regarding the despicable behavior of his team in Elista. Even so, this game is brilliant! Perhaps if he and his manager knew how to behave in public, more readers would have selected this game.
2. Anand - Bologan, Dortmund 88/77
Seven of nine grandmaster jurists gave this game their top vote for
Informant
88. Xie Jun ranked it sixth. Bologan's Caro-Kann fell apart as Anand exposed his king and unleashed an array of tactics to keep up the pressure. My number two did not make the top ten.
3. Kasparov - Kramnik, Dos Hermanas 66/382
I discussed this game in "
Kramnik's Golden Games
" last October. My number three finished seventh.
4. Kasparov - Topalov, Wijk aan Zee 74/110
In my first run through the games, I knew this game belonged in the top ten and wrote a note, "maybe #10." By the time I voted, I had moved it up to number four; it placed fourth in the Reader's Poll, too.
5. Ivanchuk - Jussupow, Bruxelles (m/9) 52/592
In a previous
Informant
Reader's Contest, after 64 issues, this game placed first in the voting. Grandmasters placed it second behind Karpov - Kasparov, Moscow (m/16) 40/202. I had it fifth, but again it won first. Is this the best game played in the past half-century? Many players think so.
6. Kasparov - Anand, New York (m/10) 64/315
Kasparov attributed his victory in this World Championship match game to home preparation where Vladimir Kramnik was part of his team. It placed second in the Reader's Contest a few years ago, but finished fifth this time.
7. Karpov - Korchnoi, Moscow (m/2) 18/433
This critical game was part of the Candidates Match that became the World Championship Match when Fischer defaulted through his intransigence. Initially I had it as my top choice, but study of more recent games revised its position downwards. It finished eighth among other readers.
8. Karpov - Kasparov, Moscow (m/16) 40/202
Kasparov's knight took up residence on d3 relatively early. When Karpov finally extinguished it, his queen came off the board and Kasparov's heavy pieces could get to the White king. This game finished second in the Reader's Vote.
White to move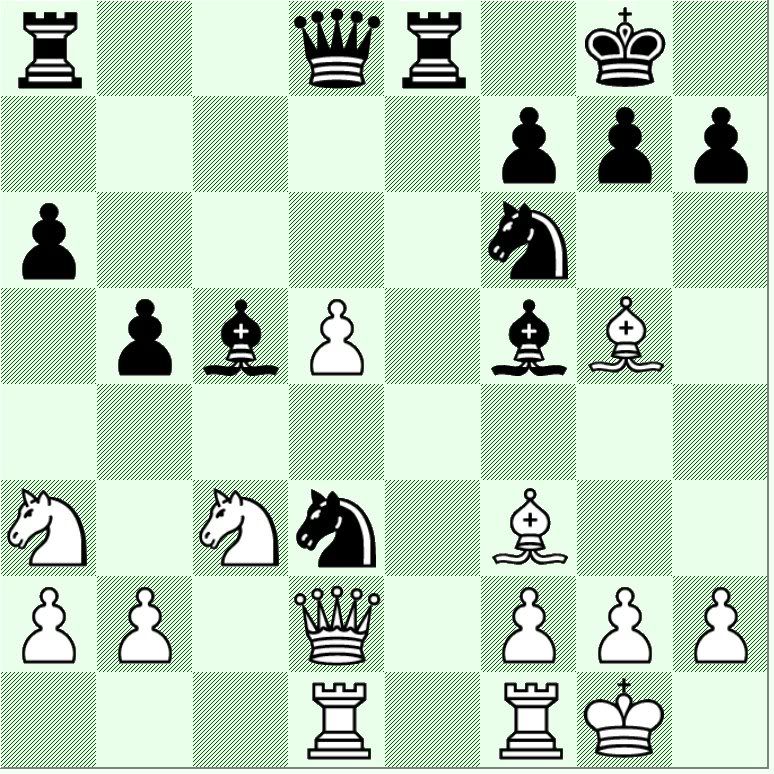 9. Ivanchuk - Shirov, Wijk aan Zee 65/417
As with many of the selections, this game is featured in the exclusive list of 100,
The World's Greatest Chess Games
(1998) by Graham Burgess, John Nunn, and John Emms. They note that the game contains "positions that are objectively very difficult to assess: White has two pieces for a queen, but Black's king is exposed and White has some dangerous kingside pawns" (532). My number nine placed third.
10. Fischer - Stein, Sousse (izt) 4/336
This game was Fischer's second Golden Game. I mentioned it in my first blog post about
Best of the Best 1000,
"
La crème de la crème
." In the Grandmaster voting of several years ago, it held its place in the top ten, but Readers Voting left it out then and now. I suspected that my advocacy of this great game was not likely to secure the top position in the reader's contest. Even so, my fifth place finish is not bad.
*They did not keep it up. It was there perhaps one year. I removed the link when I discovered that it was dead.