With pawns on both sides of the board, bishops are better than knights. So they say, anyway. But
Informant
11/221 is this win by Bobby Fischer over Wolfgang Unzicker. The game was selected as the best of
Informant
11, and can be found in
The Best of the Best 1000
(2008), 56. This game was the third of Fischer's "Golden Games," having previously won that distinction with his win over Bent Larsen at Monte Carlo, 1967 (
Informant
3), and over Leonid Stein--the game I featured in
La crème de la crème
.
White to move
Fischer played
33.Qe7
, forcing the trade of queens and a knight versus bishop endgame. The rest was a matter of technique.
After
33...Qxe7 34.Nxe7 g5 35.hxg5 hxg5
, Fischer has a double attack against the c7 pawn and the f6 square.
White to move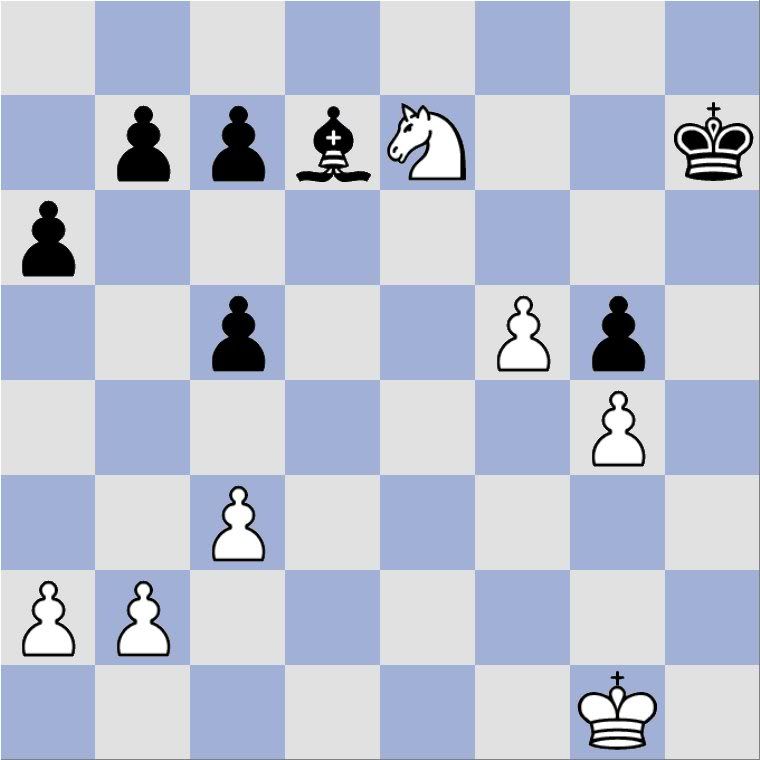 Of course Fischer played
36.Nd5
. After
36...Bc6 37.Nxc7 Bf3
, Fischer defends the pawn with another fork threat.
White to move
38.Ne8 Kh6 39.Nf6 Kg7
White to move
How did Fischer continue?