The Foidos Experience
Both were in real danger.
Miguel Illescas during the game
Bought my ticket and I'm watching the game and the players in real time through
Foidos
. Yasser Seirawan tells me what I'm seeing and offers additional entertainment. Throughout the game this morning (afternoon), I'll post periodic updates to this blog.
Kramnik,V-Anand,V
World Chess Championship, Bonn 2008
1.d4 d5 2.c4 c6 3.Nf3 Nf6 4.Nc3 e6 5.e3 Nbd7 6.Bd3 dxc4 7.Bxc4 b5 8.Bd3 a6 9.e4 c5 10.e5 cxd4 11.Nxb5 axb5 12.exf6 gxf6 13.O-O Qb6 14.Qe2 Bb7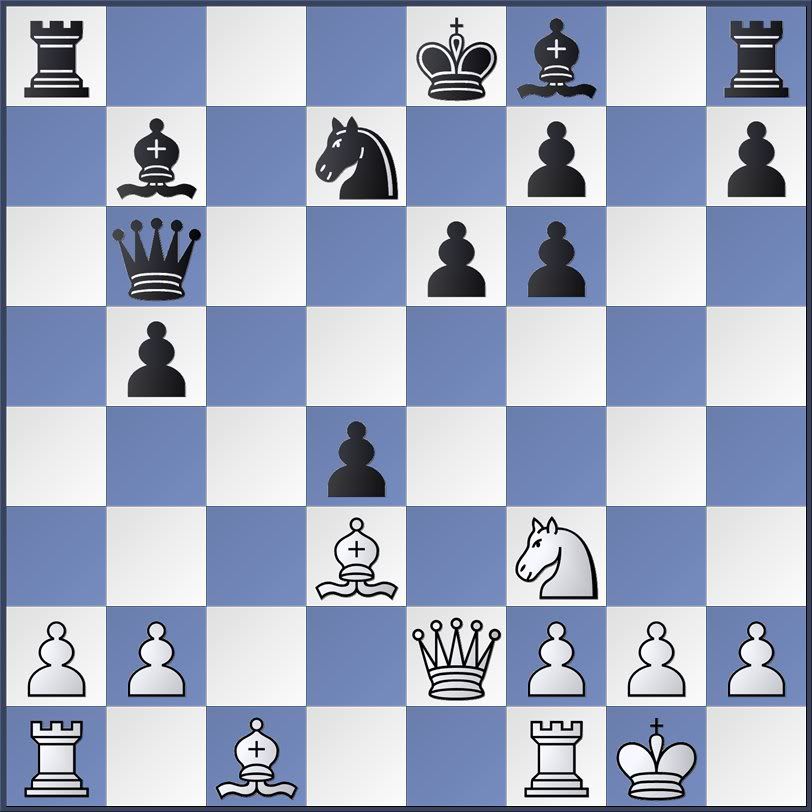 and Kramnik starts to think. Eight games in the database.
While Kramnik thinks, I spend a few minutes updating the game score. I also take a moment to send a note to Yasser Seirawan:
Greetings from Washington State. How's your throat? Do you have a ready supply of tea?

He read the comment on the air, and thanked me for the reminder. Having listened to his commentary through many events I remember how his voice gets as the event wears on. I also have some experience talking for several hours at a time during presentations day after day. It's tough on the vocal chords--cough drops and tea are essential work tools.
15.Bxb5 Bd5
Seirawan thought White could take the pawn, but is a little surprised at Anand's move.
6:26am PDT; 3:26pm at the venue.
My morning coffee is getting cold, and Yasser's cough tells me that he needs his afternoon tea.
6:32am PDT
Kramnik is looking down, but not at the board. Probably he's examining the "true" board (as Plato would call it)--the one in his mind. Now he's looking away. Now back at the board. Foidos Chess lets me focus on either player, or look at both together at the table. If a viewer wants to spend hours watching only one player's face and mannerisms, that is now possible.
It's clear that Anand was prepared for this line. The clocks show four minutes used by Anand, and almost half an hour by Kramnik.
Yasser had an interesting conversation with Miguel Illescas, who is an expert in the Slav Defense.
6:39am PDT
Miguel has left the studio, and now Yasser goes through their conversation on the demo board.
6:44am PDT
Two games in database:
Doeppner,T - Voigt,M (2305) [D49]
Oberliga Nord N 9293 Germany, 10.1992
1.d4 d5 2.c4 c6 3.Nf3 Nf6 4.Nc3 e6 5.e3 Nbd7 6.Bd3 dxc4 7.Bxc4 b5 8.Bd3 a6 9.e4 c5 10.e5 cxd4 11.Nxb5 axb5 12.exf6 Bb7 13.0-0 Qb6 14.Qe2 gxf6 15.Bxb5 Bd6 16.Nxd4 Rg8 17.Nf3 Ke7 18.Bxd7 Rxg2+ 19.Kxg2 Rg8+ 20.Kh3 Ba6 21.Qd1 Bxf1+ 22.Qxf1 Qb4 23.Ng5 fxg5 24.Qb5 Qe4 25.Bc6 g4+ 26.Kh4 Qd4 27.Be3 Qh8 28.Bg5+ Kf8 29.Rd1 h6 30.Bd8 Rg5 31.Qd3 Rh5+ 32.Kxh5 Qe5+ 33.Kxh6 Bc5 34.Qe4 Qxh2+ 35.Kg5 Qxf2 36.Rd3 g3 37.Bf6 Bb6 38.Qb4+ Kg8 39.Qf4 Qc5+ 40.Kh4 Qxc6 41.Qg5+ 1-0
D'Israel,D (2259) - Gerbelli Neto,E (2234) [D49]
Paulisto-ch 5th Etapa Americana (6), 04.08.2000
1.d4 d5 2.c4 c6 3.Nc3 Nf6 4.Nf3 e6 5.e3 Nbd7 6.Bd3 dxc4 7.Bxc4 b5 8.Bd3 a6 9.e4 c5 10.e5 cxd4 11.Nxb5 axb5 12.exf6 Qb6 13.0-0 Bb7 14.Qe2 gxf6 15.Bxb5 Bd6 16.Rd1 Rg8 17.g3 Bc5 18.b4 Bxb4 19.Nxd4 Bd5 20.Rb1 Qc5 21.Be3 Rxa2 22.Qd3 Ra3 23.Qxh7 Rf8 24.Nxe6 1-0
15.Rd1
was played moments age. Visible in both Foidos, and at
playchess
where I'm following the game on my second computer.
Still following one game.
6:47am PDT
15...Rg8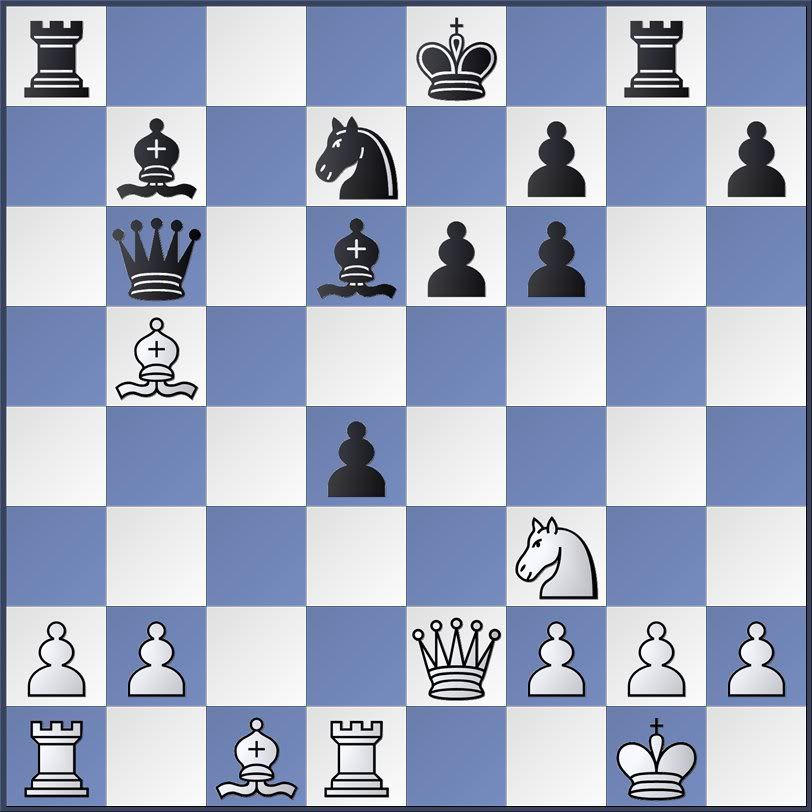 6:54am PDT
Miguel comes back into the studio, and I'm repairing errors I created in my html for this blog. Miguel has aggressive ideas. "Incredibly dangerous," Miguel says. He likes Anand's position.
6:59am PDT
17.g3
Kramnik gets up from the board.
7:00am PDT
17...Rg4
The novelty. Anand has used nine minutes.
7:06am PDT
I've been able to keep Grandmaster Seirawan connected to the ChessBase database through the comments feature. He was able to identify the novelty because I sent a text with the information. As on playchess, where I've followed live games with Grandmaster Seirawan in the past, Foidos Chess brings the viewers into the process.
7:08am PDT
Yasser takes a fifteen minute break. Well deserved, and needed.
7:13am PDT Screenshot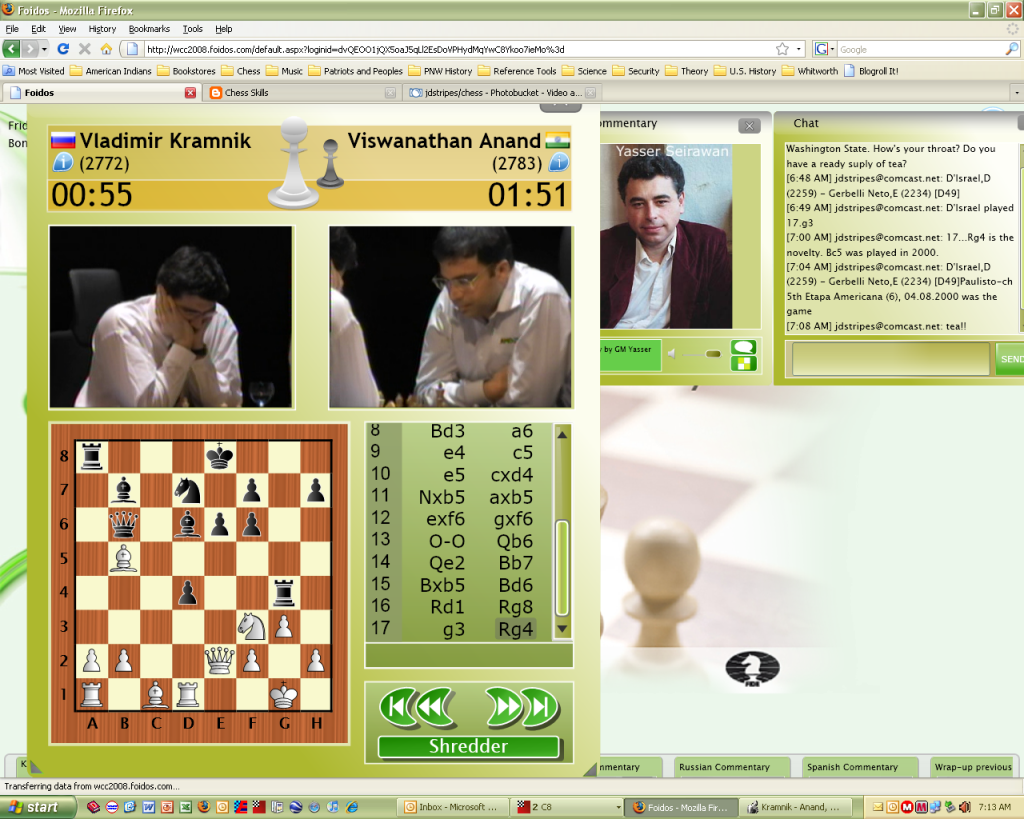 7:25am PDT
Yasser Seirawan is back. Kramnik is looking to get in time trouble.
18.Bf4
Anand starts to think.
7:29am PDT
18...Bxf4
Anand was prepared even for this position. Moves are coming fast. Miguel is in the studio with Yasser.
19.Nxd4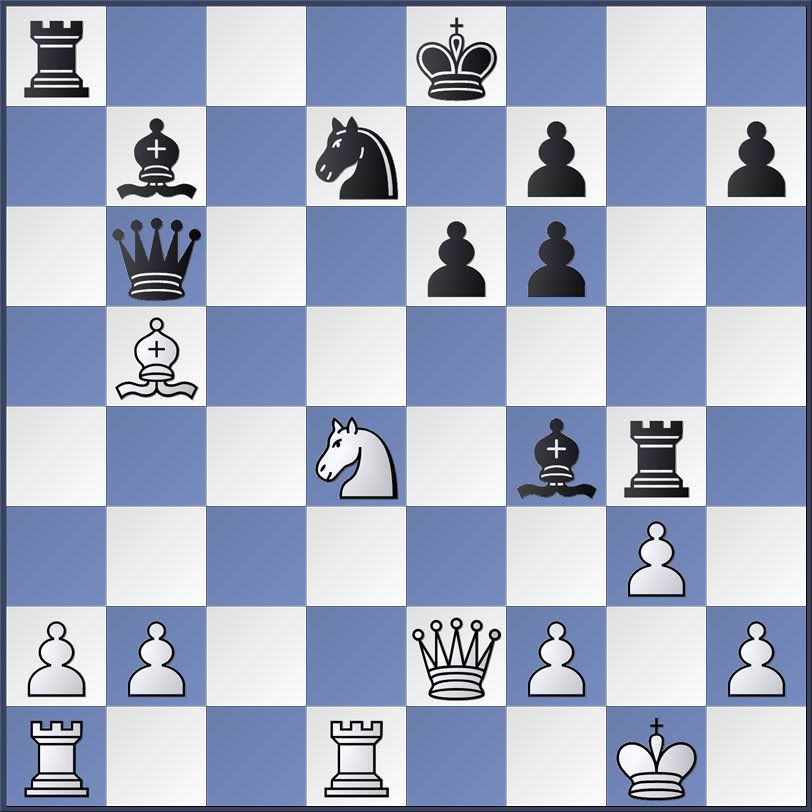 7:41am PDT
Anand is thinking. Miguel thinks that Kramnik's only hope is that Anand does not remember his analysis.
Hiarcs 12 thinks the game is even.
7:46am PDT
Anand is thinking. Interesting conversation between Yasser and Miguel--good for Yasser's throat that Miguel helps with the analysis.
Emails are rolling in for the
Scholastic Chess Tournament
that will cause me to miss tomorrow's game.
7:55am PDT
Miguel is telling us how much he learned working with Kramnik. He says that of course he had an appreciation of the power of a bishop pair relative to a bishop and knight, but Kramnik facilitated deeper understanding of this element of strategy and piece play.
7:56am PDT
The commentators take a break
Anand is still thinking. Kramnik has been away from the chess board.
8:01am PDT
I take a moment to check in on
The Chess Mind
, the blog of Dennis Monokrousses, where he offers some of the analysis from Miguel Illescas and Yasser Seirawan.
8:23am PDT
Several moves were played while I was on the phone working on the
website
for the 2009 Washington State Elementary Chess Championship for which I'm the organizer.
19...h5 20.Nxe6 fxe6 21.Rxd7 Kf8 22.Qd3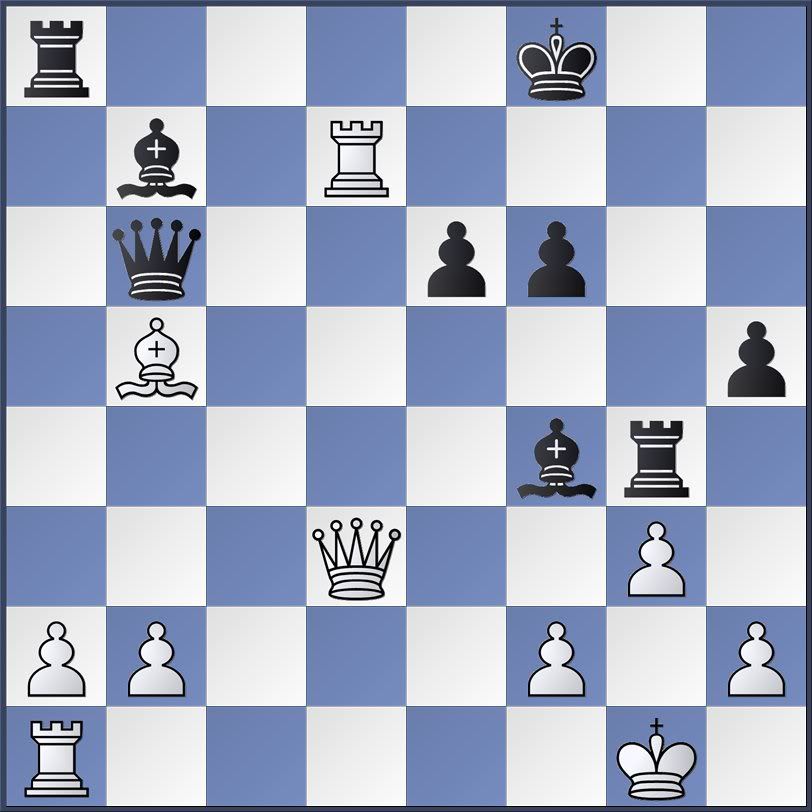 Yasser is responding to comments regarding the analysis board, which he thought would be resizable. I have very few criticisms of Foidos, but that's something I would like.
8:34am PDT
Cuppablanca at Tryfon Gavriel's
Chess World
website thinks that Kramnik's 18.Bf4 was outside Anand's preparation.
Miguel and Yasser are analyzing deeply, and I might be able to follow them better if I weren't doing so many other things at once.
8:39am PDT
22...Rg7
was played.
Clocks show 37 minutes remaining for Kramnik, who is thinking. 43 minutes remain for Anand who spend a lot of time for past couple of moves.
8:47am PDT
Moves played while I was preparing my breakfast.
23.Rxg7 Kxg7
Hiarcs 12 likes 24.gxf4 with an slight advantage for White
8:49am PDT
24.gxf4
8:55am PDT
Kramnik come back to the board while Anand is thinking. He takes a drink from his water glass, which appears empty. He looks back over his shoulder, nods to someone, presumably to get more water, and looks back to the board.
Anand moves.
24...Rd8 25.Qe2 Kh6
came in quick succession.
9:00am PST
Miguel and Yasser think Kramnik moved in haste when he played 25.Qe2. Yasser is talking about basketball and the tendency of competitors in all sport to work very hard when in trouble, solve the problems, then relax and err.
9:04am PDT
26.Kh1
White 00:23; Black 00:32
26...Rg8
Anand's clock shows 0:28
27.a4
Kramnik's clock shows 00:17:00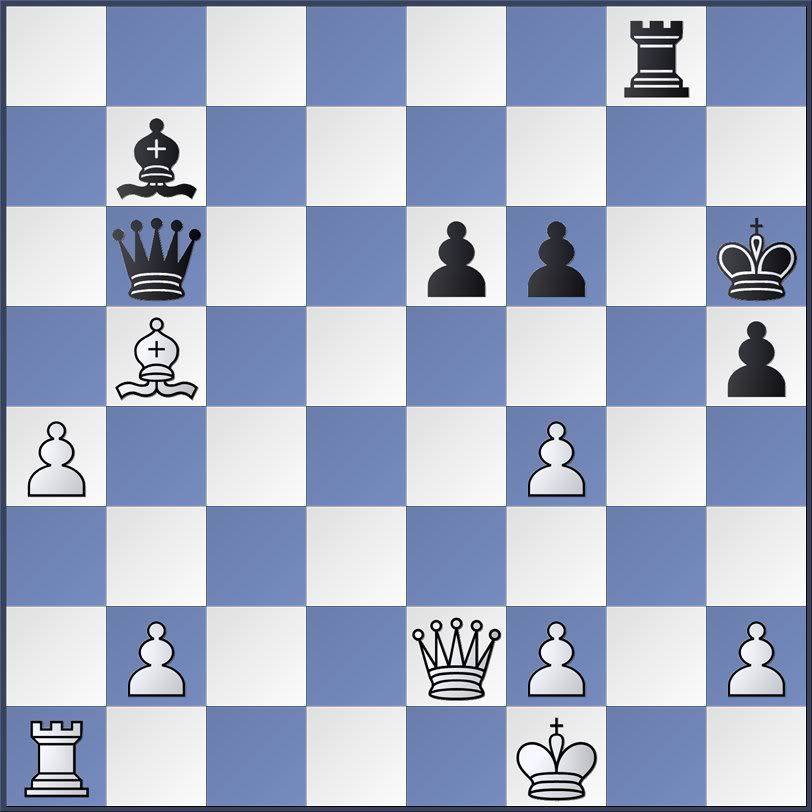 9:19am PDT
Yasser is looking at a potential repetition in the position. Playchess pundits recommend a draw.
9:23am PDT
27...Bg2+ 28.Ke1 Bh3
Kramnik 00:16:00 Anand 00:17:00
29.Ra3

9:45am PDT
Another phone call, this time concerning tomorrow's Black Knights' Joust scholastic tournament.
Lots of moves.
29...Rg1+ 30.Kd2 Qd4+ 31.Kc2 Bg4 32.f3 Bf5+
Hiarcs 12 likes Anand's position. The players have about seven minutes each for the next eight moves.
9:51am PDT
The clocks that showed seven minutes show something quite different now--technical difficulties with the web clocks.
33.Bd3 Bh3
Did Kramnik blunder?
34.a5 Rg2 35.a6 Rxe2+ 36.Bxe2 Bf5+ 37.Kb3 Qe3+ 38.Ka2 Qxe2+ 39.a7 Qc4+ 40.Ka1 Qf1+ 41.Ka2 Bb1+ 0-1
Anand wins an exciting game. The World Champion is in the lead.
I had an excellent game watching experience through Foidos with commentary in English by Yasser Seirawan and Miguel Illescas.
10:02am PDT
The game is over, but the coverage goes on. I'm watching Tea Lanchava interview Seirawan and Illescas sometime earlier during the game.
10:22am PDT
Lancheva's report is cycling through commentary that I've already seen. Time to head for the gym, then get back to work organizing the State tournament next April, and preparing SwissSys for tomorrow's qualifying event.
Kramnik and Anand both deserve our thanks for a hard fought and entertaining game.