This could be the end. I have nothing against Viswanathan Anand. Indeed I've long enjoyed his chess. But I am a partisan in favor of Vladimir Kramnik. He must win today to keep the World Chess Championship match going. I'm looking forward to an exciting game.
I recall buying
Kramnik: My Life and Games
(2000) before he became the World Chess Champion, but the publication date renders that improbable. Chances are that my memory is playing tricks on me and that I became a fan of Kramnik because of his performance against a former idol, Garry Kasparov. In any case, when I bought that book, the Sveshnikov and Kalashnikov variations of the Sicialian Defense were a central component of my repertoire. There are many exciting examples of so-called high risk Sicilians in Kramnik's early career.
Then, following his lead I added the Russian Defense (AKA Petroff) and Berlin Defense in the Spanish to my efforts. As I was struggling to break away from the C-class plateau, Kramnik's play offered a model for extracting wins from seemingly even positions, as well as stubbornly defending slightly inferior positions.
6:56am PDT; 2:56pm in Bonn
The game clock on
Playchess
is counting down to two hours.
Kramnik,V-Anand,V
World Chess Championship, Bonn 2008
1.d4 Nf6 2.c4 e6 3.Nc3 Bb4 4.Nf3 c5 5.g3 cxd4 6.Nxd4 O-O 7.Bg2 d5 8.cxd5 Nxd5 9.Qb3 Qa5 10.Bd2 Nc6 11.Nxc6 bxc6 12.O-O Bxc3 13.bxc3 Ba6 14.Rfd1 Qc5 15.e4 Bc4 16.Qa4 Nb6 17.Qb4 Qh5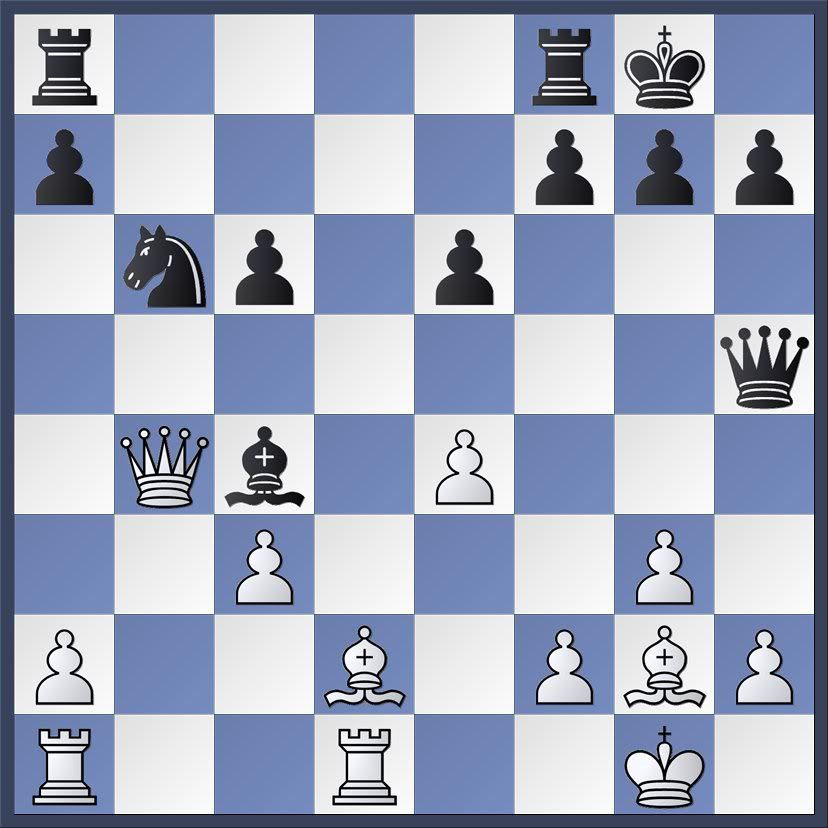 At least thirteen games have reached this position, including:
Kasparov,G (2851) - Anand,V (2769) [E20]
Corus Wijk aan Zee (7), 15.01.2000
1.d4 Nf6 2.c4 e6 3.Nc3 Bb4 4.Nf3 c5 5.g3 cxd4 6.Nxd4 0–0 7.Bg2 d5 8.cxd5 Nxd5 9.Qb3 Nc6 10.Nxc6 bxc6 11.0–0 Qa5 12.Bd2 Bxc3 13.bxc3 Ba6 14.Rfd1 Qc5 15.e4 Bc4 16.Qa4 Nb6 17.Qb4 Qh5 18.Be3 Be2 19.Rd2 Rab8 20.Bxb6 axb6 21.Qd6 Bf3 22.Qxc6 Bxg2 23.Kxg2 Qe5 24.Qc4 Rfc8 25.Qd4 Qa5 26.Rb1 h6 27.Rb4 Qc5 28.Rd3 Qc7 29.a4 Rd8 30.Qe3 Rxd3 31.Qxd3 Rc8 32.Qb1 Qxc3 33.Rxb6 Rc4 34.Rb8+ Kh7 35.Rb7 f6 36.Re7 Rb4 37.Qa2 Qc4 38.Qxc4 Rxc4 39.a5 Ra4 40.Rxe6 Rxa5 41.Rd6 Ra4 42.Kf3 Ra3+ 43.Ke2 h5 44.Rd3 Ra2+ 45.Ke3 Kg6 46.h3 Ra4 47.f4 Rb4 48.Ra3 Rc4 49.g4 hxg4 50.hxg4 Rb4 51.Ra6 Kf7 52.Ra7+ Kg6 53.f5+ Kh6 54.g5+ fxg5 55.e5 g4 56.e6 Kg5 ½–½
18.Re1
Kramnik finds his third novelty of the match. Anand goes into a think.
7:32am PDT
18...c5 19.Qa5 Rfc8 20.Be3 Be2
Anand has used approximately forty minutes.
7:57am PDT; 3:57pm in Bonn
21.Bf4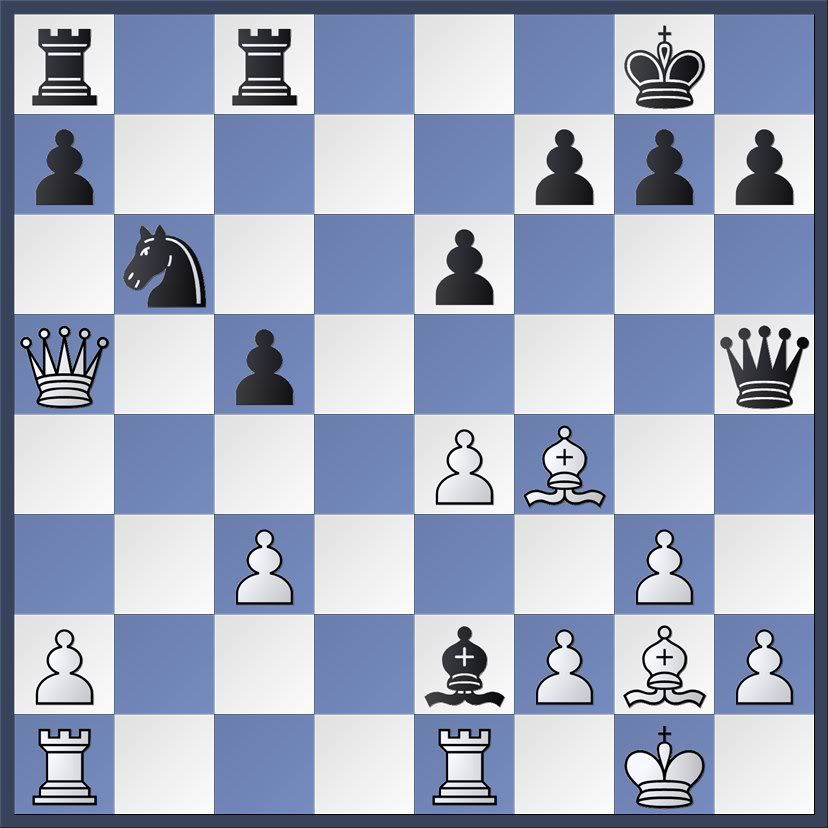 Kramnik has used approximately twenty-three minutes.
21...e5
Kramnik is thirty minutes ahead on the clock.
8:21am PDT
Opening Nomenclature
This game is a Nimzo-Indian Defense, but which variation? 4.g3 is given as the Steiner Variation (for Lajos Steiner, Hungarian champion in the 1930s) in David Hooper and Kenneth Whyld,
The Oxford Companion to Chess
(1992) and at
Chess Archaeology
. In the comments section of this blog, the Romanishin Variation has been mentioned. Barry Spiro has written
Romanishin Variation ( 4 g3 ) of the Nimzo-Indian Defense
(1981), which might have some bearing on this game with a slightly different move order.
22.Be3
Kramnik spent over ten minutes on that move. He does not appear to have an appreciable advantage, but there are imbalances in the position: bishop pair vs. bishop and knight, and one of the players might lose his isolated pawn. 22.Bxe5 might have led to 22...Nc4 23.Qa6 Qxe5 24.Rxe2 Qxc3 when Hiarcs 12 starts to like Kramnik's position, but my eye says that c-pawn could become a problem.
Susan Polgar
is optimistic, at least from the point of view of Kramnik's partisans:
I just glanced at the evaluation of Fritz. It gives the position as equal. I disagree. I think White is slightly better and Anand has an uncomfortable position with White's Bishop pair pointing at his Rooks and his pieces are not very coordinated. In addition, it is not so simple for Black to come up with a sound strategic plan here.

22...Bg4 23.Qa6
Dennis Monokrousses
called the move, as did Susan Polgar. It stands to reason that Anand was not surprised.
23...f6 24.a4
Hope Springs Forth
9:18am PDT; 5:18pm in Bonn
Hiarcs 12 now gives an evaluation of +0.60!
24...Qf7
The intent of 23...f6. Anand's queen need to be in the fight. Nc4 is again a possibility.
25.Bf1
and Hiarcs 12's evaluation goes up.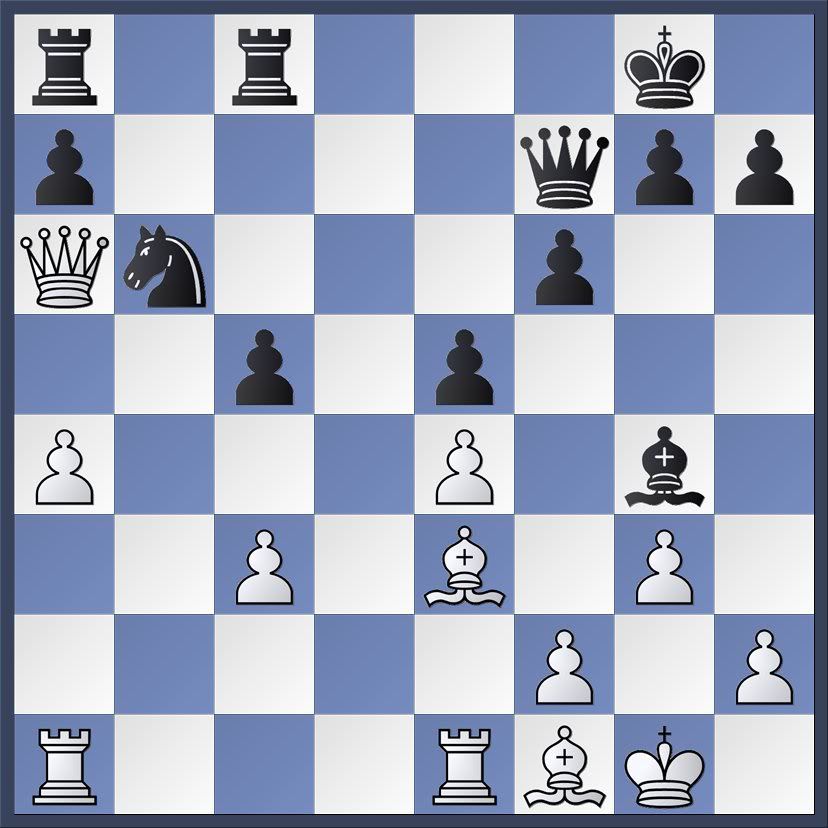 25...Be6
My engine preferred 25...Kh8. Now it likes 26.Reb1 +1.10.
26.Rab1
How does a player know which rook to move? I've often selected the wrong one. Did Kramnik?
9:39am PDT; 5:39pm in Bonn
Playchess
clocks showKramnik just under an hour, and Anand just over twenty minutes. Anand must move every ninety seconds to get to the endgame--Kramnik's strength. Although, as Yasser Seiriwan pointed out when I
brought this point up
on Friday, Anand has been outplaying Kramnik in the endgame so far in Bonn.
26...c4
Anand used something close to four minutes.
27.a5 Na4
was played while I was discussing it in a comment (where I incorrectly wrote 27.a4).
28.Rb7 Qe8 29.Qd6
Anand is in trouble!! Go Kramnik, Go!!
Almost Three Hours into the Game
9:53am PDT; 5:53pm in Bonn
Hiarcs 12 has +1.75.
1-0
Anand leads 6-4, and they will play on Wednesday. Unfortunately I will not be able to follow that game live.