The United States Chess Federation recently added a new feature to the
Member Services Area
where chess players go to look up their ratings, tournament crosstables, and other similar information. This feature creates up-to-date rating history graphs. These graphs combined with others created in Excel present a portrait of my chess performance over time.
This graph shows the ups and downs of my improvement since I began playing in USCF rated events in 1996. Since then, I've played an average of seventeen standard rated games per year. The average number is atypical--most years I've played either a half-dozen or two dozen. The active years also have included several quick events. I played twenty-five or more standard rated games in 1996, 1998, and every year 2005-2008. In 2000 I played a few email games, two thousand online games, and started coaching elementary age youth, but did not play any OTB tournaments. My online chess activity peaked in 2003 during a steady decline in OTB performance.
This decline is clearly evident in a graph showing my average annual performance rating.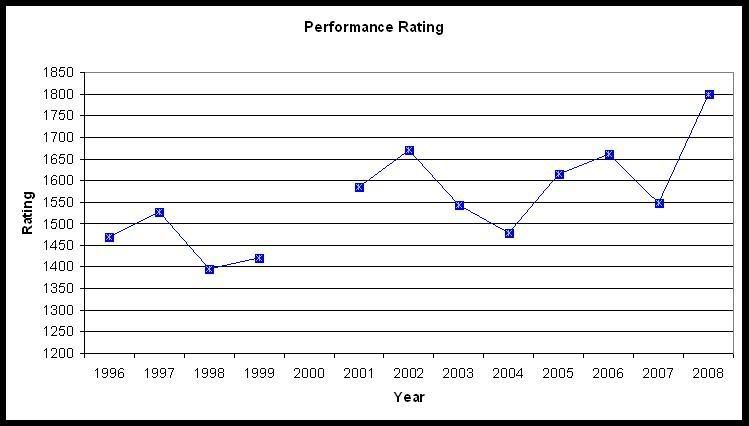 In the summer of 2005, I took lessons from a young Master. I started that year at 1516, ten down from my peak of two years earlier, and became ambitious when I jumped to 1586 after the first event of the year. Through the spring and summer I declined steadily to 1530, then in two fall events jumped up to 1601. I ended the year with ten wins, seven draws, thirteen losses, and an overall performance rating of 1615.
After crossing over 1600, I have not dropped back down below that mark. Rather, I continued a steady climb through 2006 to 1722 and then suffered a brief setback in 2007. In that year I played in six standard events and five quick--my greatest level of activity. Consequently, my standing in the
local grand prix
was near the top. I was on the cusp of qualifying for the City Championship Contenders tournament when I had to miss a mid-summer tournament due to work obligations. A youth player edged me out for the last spot, and there was no disruption of my
fishing trip
with some friends from graduate school.
I played in fewer events quick events through fall 2007 and spring 2008 and had not set the Contenders tourney as a goal, but qualified nonetheless (despite fewer grand prix points than the previous year). Then I won the Contenders tournament and became the challenger in the
Spokane City Championship
. I stepped up my preparation for this four game match against a FIDE master, and managed a draw in the third game. Game four went unplayed because the champion had successfully defended his title, but I took some rating points from him and peaked at 1748.
In the Eastern Washington Open in late September, I played poorly, but managed to avoid losses in my winless performance. Now, halfway through the fall club championship I have two wins and a bye (work conflict again) and face the top seed in round four. At this point in 2008 I have twelve wins, nine draws, five losses, and an overall performance rating of 1800.
I've never succeeded in getting my wins over 50%, but increasing the number of draws this year cut my losses to approximately 20%, as is evident in the next graph.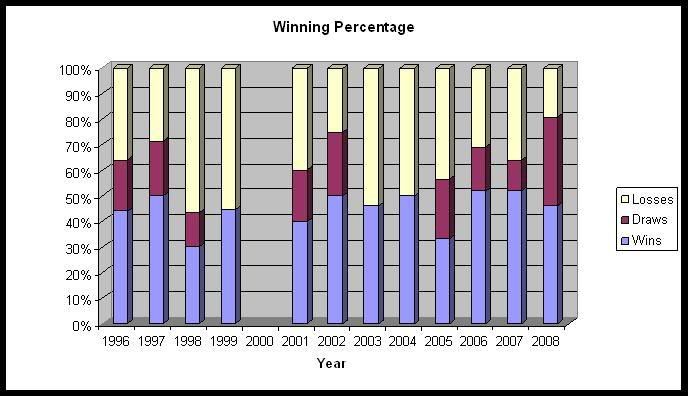 My present goal is to achieve a standard rating over 1800 by the end of the 2010
Collyer Memorial Tournament
.