FoidosChess Friday
As last Friday, I bought a ticket to watch today's game via
FoidosChess
. The game should begin in fifteen minutes, so I'm watching Tea Lancheva interview Stephan Andreae, one of the tournament organizers. He is director of the venue, the Art and Exhibition Hall of the Federal Republic of Germany in Bonn. He describes himself as "a very bad chess player," but he sees the art in chess and is proud to host the event in an art museum.
Kramnik,V-Anand,V
World Chess Championship, Bonn 2008
1.d4 Nf6 2.c4 e6
My clock says they started a minute early!
3.Nf3 d5 4.Nc3 dxc4 5.e4 Bb4 6.Bg5 c5 7.Bxc4 cxd4 8.Nxd4 Qa5 9.Bb5+ Bd7 10.Bxf6 Bxb5!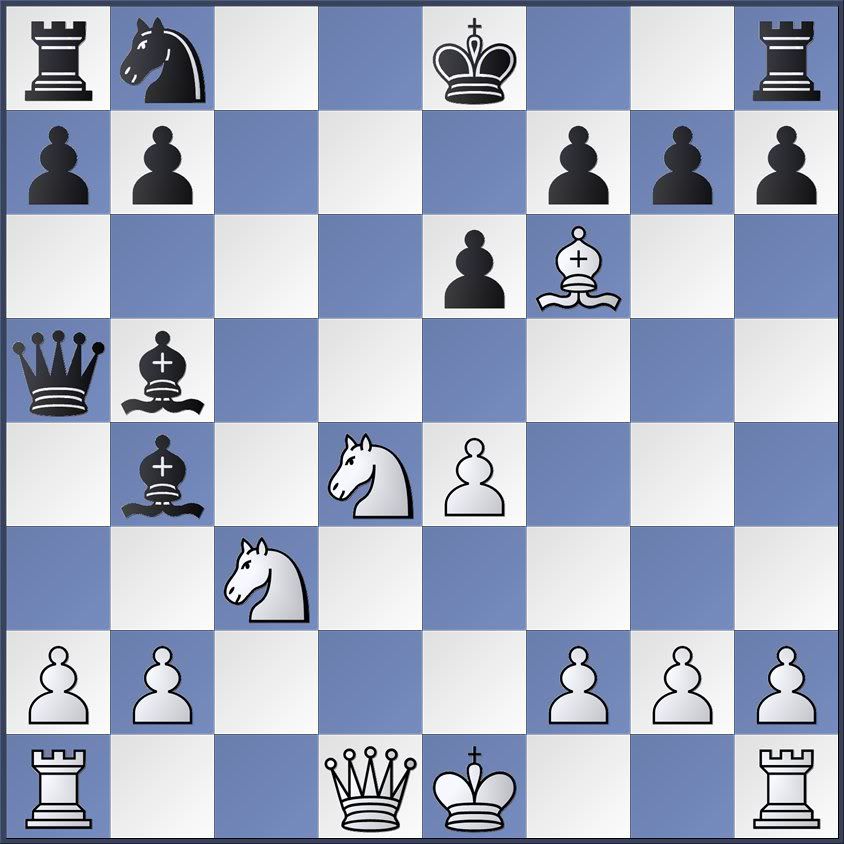 Yasser Seiriwan calls this move "off the beaten track." It appears to be the novelty. I found twenty-eight games with 10.Bxf6 in the
ChessBase database
, but none with Anand's move.
11.Ndxb5 gxf6
6:19am PDT in Spokane; 3:19pm in Bonn
12.O-O Nc6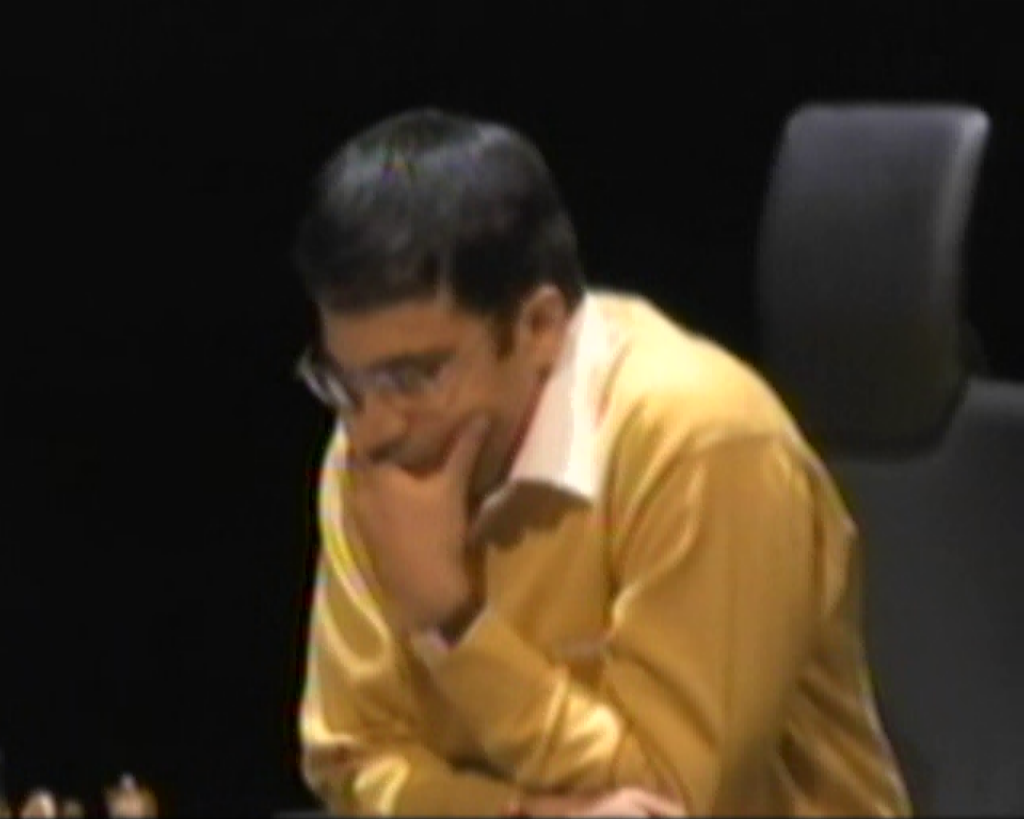 FoidosChess allows the viewer to look at either player full screen, or the board, or many of several other camera angles.
13.a3
6:35am PDT
13...Bxc3
Thirt-four minutes consumed by Kramnik; five by Vishy.
14.Nxc3
Anand is thinking
6:46am PDT
Another FoidosChess viewer has provoked Grandmaster Seiriwan to consider 14...O-O in his analysis.
6:49am PDT
14...Rg8
again!
But, here Anand has no light-squared bishop helping the rook bear down on Kramnik's monarch.
15.f4
We are one hour into the game.
7:11am PDT
I just took a moment to check the US Chess Federation's
Member Services page
to see whether the
Spokane Chess Club's Fall Championship
had been rated yet, as it concluded last night. It has. I was the third seed and finished in a six-way tie for third. However, I drew the second seed. My rating went up to a new personal high--over 1750 for the first time.
15...Rd1 16.Qe1
Kramnik played his move instantly.
7:13am PDT; 4:13pm in Bonn
Both clocks show 1:13 remaining. Viswanathan Anand is thinking.
16...Qb6 17.Rf2
Kramnik is three minutes ahead on the clocks.
17...Rd3
Had to take a short drive. What did I miss?
18.Qe2 Qd4 19.Re1 a6
Hiracs 12 believes that White is slowly improving his position, which is good news for Kramnik fans.
On October 1, this blog had fifty hits. Since this game began today, I've had fifty hits per hour. It's still small time, but tremendous growth!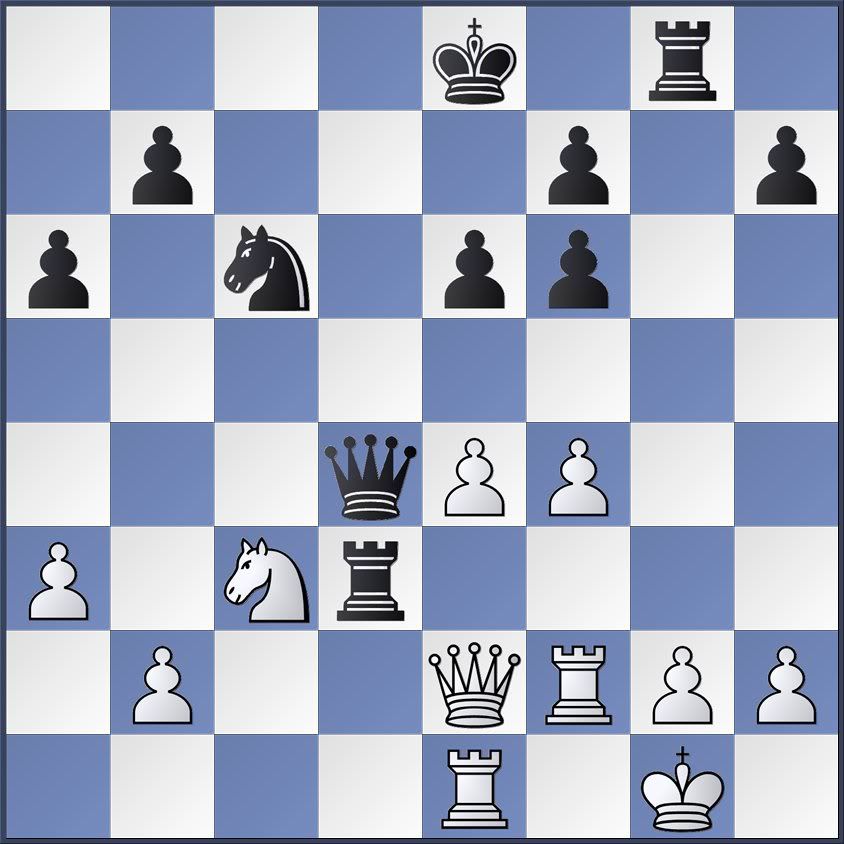 20.Kh1
Grandmaster Yasser Seiriwan presents excellent commentary, and engages in conversation with his listeners, who type their comments. When he started discussing the endgame that might result in this game, I sent him a comment that he read on the air:
An ending against Kramnik is almost never equal. The man is a god of the endgame.
Yasser pointed out that Anand outplayed Kramnik in the endgame yesterday. He also added that he thinks Anatoli Karpov is a one of the greatest endgame players in all types of endgames. In rook endgames, Seiriwan likes Vasily Smyslov and Victor Korchnoi.
8:22am PDT; 5:22pm in Bonn
20...Kf8
Hiarcs 12 likes 21.Na2 with the idea of Na2-c1 trapping the rook. It then gives 21...Qb6 22.f5
21.Ref1 Rg6 22.g3
8:44am PDT
Game clocks show
Kramnik 00:31 Anand 00:38
22...Kg7 23.Rd1!? Rxd1 24.Nxd1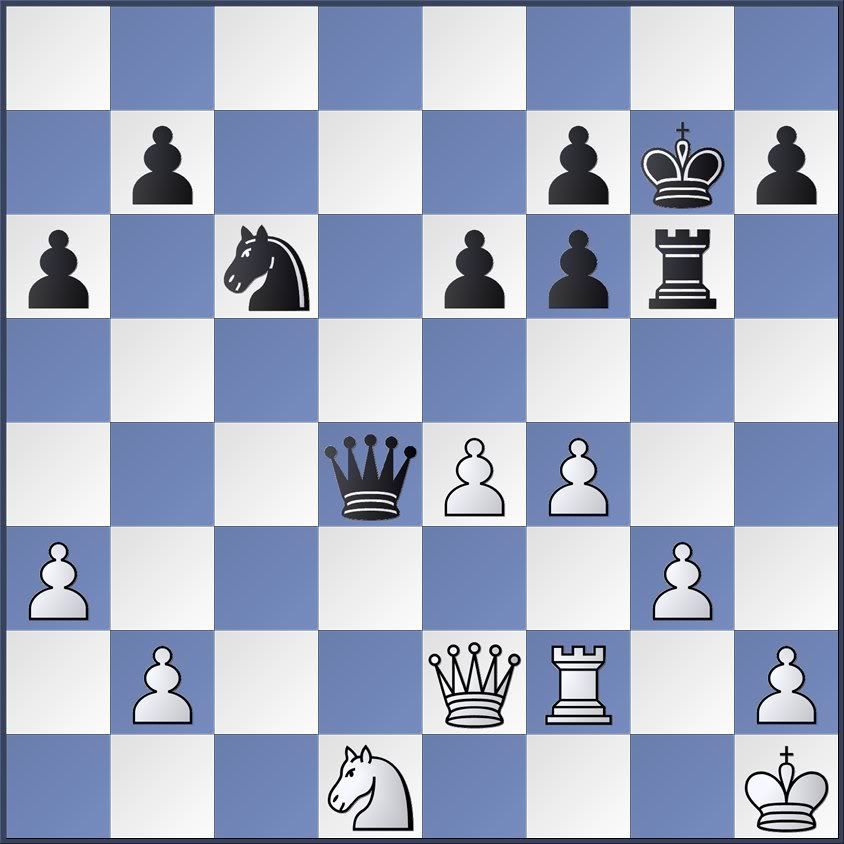 24...Kh8
The game has been going for three hours.
25.Nc3 Rg8 26.Kg2 Rd8 27.Qh5
Kramnik 00:23 Anand 00:25
27...Kg7 28.Qg4+ Kh8 29.Qh5 Kg7
A repetition to get closer to the time control?
30.Qg4+ Kh8 31.Qh4 Kg7 32.e5 f5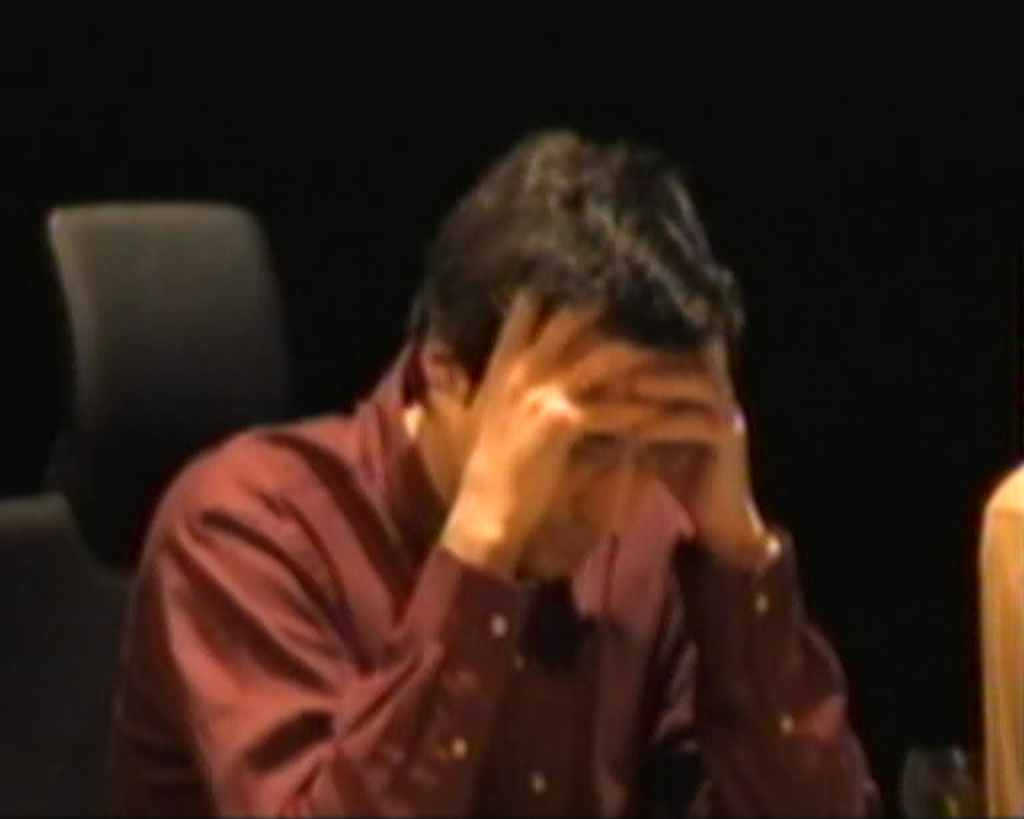 33.Qf6+ Kg8 34.Qg5+ Kh8 35.Qf6+ Kg8
Kramnik came up with a brilliant combination to add an hour to his clock.
36.Re2 Qc4 37.Qg5+ Rh8 38.Qf6+ Kg8 39.Qg5+ Kh8
½–½
Yasser Seiriwan is still looking at variations. The players are sitting at the board talking about the game.
9:38am PDT; 6:38pm in Bonn
9:41am PDT
The players just signed their scoresheets and left the board. Yasser is getting requests to ask in the press conference.
Anand leads 5
½-2
½



10:03am PDT



The press conference is over. Kramnik was happy to have the advantage for a change, but Anand found the position defensible.